The community, residents and businesses, have rallied together to face the challenges of COVID-19. Each week we are going to feature one business and one resident who has gone above and beyond in the fight of COVID-19 and we want to share these amazing stories!!
Featured Business: Pilgrims Home Hardware and Sunderland Home Furniture, Sunderland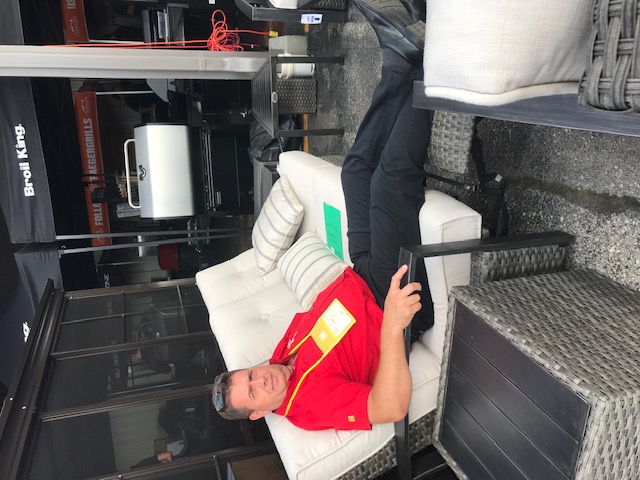 Mr. George Pilgrim, owner of Pilgrims Home Hardware and Sunderland Home Furniture, in Sunderland has been providing residents with essential supplies through curbside pickup and delivery.
Your Name: George Pilgrim
Your Business's Name: Pilgrims Home Hardware and Sunderland Home Furniture.
How are you, your family and staff members coping with COVID-19?
The Pilgrim's and Pilgrims Home Hardware family have been navigating this strange time together. Just like most family's we are trying to adapt to our ever changing world. Myself along with my family and staff are grateful for this community that continues to support us as we continue to cope through these trying times.
What changes have you implemented as a result of COVID-19 to continue serving the public?
Currently we are serving our community through curb-side serve and online orders. Customers are able to call, email or come to the store to place their order. Our staff will assemble their order and have it ready for pickup outside of the store. Customers can also request to have their order delivered to their home. We are committed to serving our community and will continue to adapt with the ever changing situation. Our first priority is keeping customers and staff safe while continuing to provide our services.
What inspired you to make changes to your business to help with the fight of COVID-19?
The safety of the community is what always inspires us to do our best. We wanted to ensure that our customers were still able to get all the essential supplies they would need while coping with isolation.
Is there anything the community can do to better support your business?
The Community has been great in their support of local businesses in Sunderland. I hope the support will continue after COVID as community members realize the capabilities of their local businesses.
If residents wish to place on order they can go online to homehardware or call 705-357-3456 to contact the store directly.
Featured Resident: Scott Gardner and his famous guitar Walter
Mr. Scott Gardner and his famous guitar Walter are bringing joy and entertainment to families young and old through online platforms.
Hello Brock Township (We'll take over the World, Pinky!)
My name is Scott Gardner. I was asked to talk a little bit about myself but, really you should hear about the much more talented and famous Walter, my guitar. He is sassy, moody, but he does keep me in line.
I taught at Beaverton Public school for 27 years, mostly kindergarten and primary grades but a few years as a teacher librarian and grade 4/5. We always found that having fun while you're teaching lead to deeper learning. I had a great mentor in professor Robert Munsch at the University of Guelph in the child studies program.
Although retired for 8 years, I still volunteered in the school library. Walter and I would always sneak up to the primary classes and cause chaos.
At the beginning of isolation I saw people reaching out to entertain kids because it was tough for them being at home. I started with one song a night on Facebook live to try it out. Very quickly parents were asking that I start on time and include a back-and-forth with their kids. Teachers from Beaverton and Thorah sent out an invite as well.
My wife and inspiration, Liz, had to fly to England to help with a medical emergency. She's been gone two months so organizing, planning, costuming, learning new stuff and generally getting ready to go online every night at 7 o'clock has really helped with all the free time.
It's amazing how my students from long ago have gotten so involved so quickly. I get to reach out to them and their kids and their grandkids! A number of parents have said that it's really helped with their nighttime routine, especially with younger kids. It provides closure for the night instead of video games or television.
This is the note I send to new Facebook friends: Hope all of you and yours are doing well. Walter (and I) sent out a whole lot of friend requests to get my songs and videos to present and former students just for giggles. Walter said it keeps me from bugging him please pass this on if you know of any kids that would be interested. check out snuggleupread.com or snuggle up, read & sing on YouTube for more. I am also trying to do a short Facebook live performance every night at 7 o'clock. #bekind #durhamstrong @brocktownship
Mr. Scott Gardner and his famous guitar Walter can be seen on his website https://www.snuggleupread.com/ and on his YouTube channel snuggle up, read & sing and on his Facebook page.
We Want To Hear From You!
We want to hear about residents and businesses who are going above and beyond and feature them in an upcoming edition. Are you aware of a business or resident who fits this category? Email us!
For more information on the Township's fight against COVID-19, visit www.townshipofbrock.ca/covid19 and Subscribe to the COVID-19 newsfeed for up to date information.