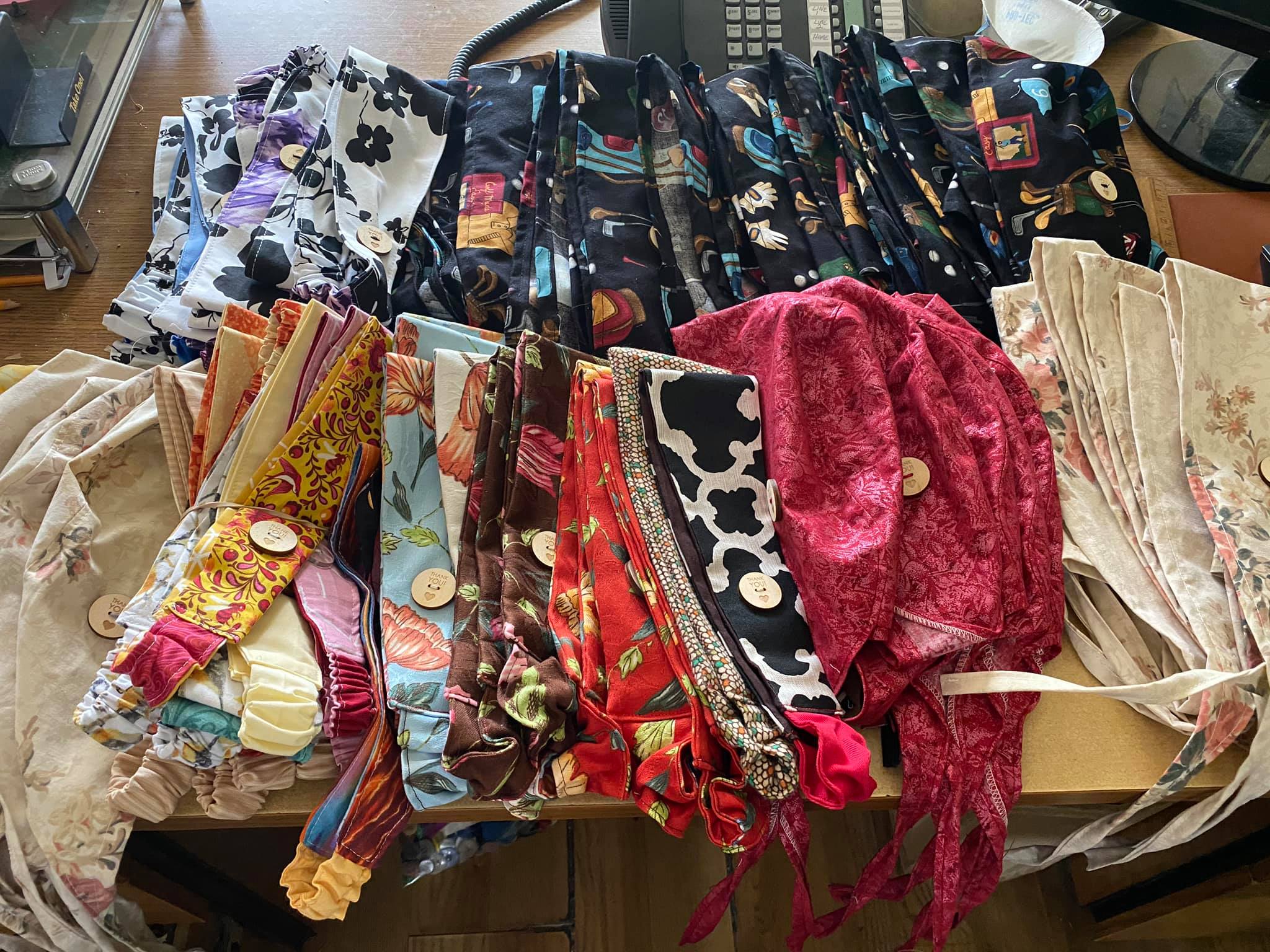 The community, residents and businesses, have rallied together to face the challenges of COVID-19. Each week we are going to feature one business and one resident who has gone above and beyond in the fight of COVID-19 and we want to share these amazing stories!!
Featured Resident: Lore Grant, Co-Founder of Brock Sews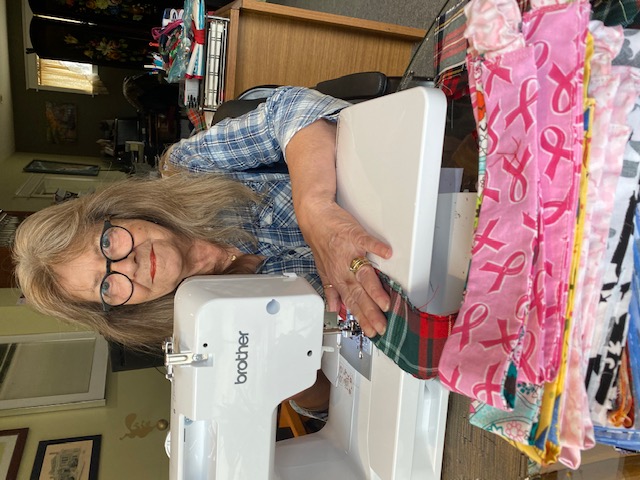 Ms. Lore Grant and her wonderful team of volunteers are providing front line and essential workers with headbands, masks and scrub caps to help make their work more comfortable during these trying times.
Your Name: Lore Grant, Co-Founder of Brock Sews
How are you, your family and staff members coping with COVID-19?
As everyone else, I am missing contact with our family and friends, but more importantly I am heartbroken and worried for residents, especially in Long-Term Care!
What are you doing to help with the fight against COVID-19?
Due to the overwhelming response to a Facebook post I shared, I received messages from throughout Brock Township from people that were wanting to help. So I started a Facebook page called Brock Sews to keep everyone in the loop regarding supplies, requests, distribution of product and to acknowledge the commitments of like-minded individuals who wanted to help our front line workers and essential service providers.
As of May 26th, we have distributed 3065 Headbands and Scrub Caps to be used in Hospitals and Long-Term Care Facilities, Group Homes, as well as, Home Care personnel with more to go. We are also sewing masks for some Non-Profit Organizations and individuals whole immune systems are compromised.
We are not in the retail business to sell our products but rather donate them because until recently most of our materials have been generously donated by residents in and around Brock Township. We have on occasion accepted a donation to purchase materials by a few individuals who wished to make a contribution towards our initiative.
What Inspired you to do this?
I saw a post on Facebook that shared a plea from a nurse whose ears were blistered and raw from wearing masks with elastic all day, everyday for 10-16 hour shifts. This nurse was looking for headbands with buttons that the elastic could be affixed to, to provide relief for her ears. This post really tugged at my heart strings.
I shared the post to various websites and started receiving responses from throughout Brock Township from people equally as passionate, wanting to help in any way they could. Even those who couldn't sew offered their services to cut patterns, sew buttons, do deliveries or donate materials to this Head Wear for Health Care Workers Initiative.
The response was heartwarming and since starting at the end of March, we have become a team, and more importantly friends with the same goal in mind... to help our Front Line Workers and Essential Service providers who are "out there" delivering care and comfort to our Seniors when we can't be with them, as well as, to the truckers delivering goods and our cashiers at our grocery stores and basically anyone who has to risk their lives everyday serving the public while we can remain safely home.
Where have you distributed your products?
To date we have distributed product to:
Brock Township:
Bon Air Long-Term Care - Cannington
Brock Community Health Centre
Brock Food Bank
Brock Seniors and/or Veterans,
Brock Youth Group,
Lakeview Manor - Beaverton
Durham Region:
Butternut Manor - Uxbridge
North Durham Community Living
Oshawa Hospital
Port Perry Hospital
Reachview Long-Term Care - Uxbridge
Uxbridge Cottage Hospital
Kawartha Lakes:
Fenelon Count - Fenelon Falls
Frost Manor - Lindsay
Kawartha Lakes Correctional Facility
Pinecrest Long-Term Care - Bobcaygeon
Ross Memorial Hospital - Lindsay
Other Locations:
Participation House - Markham
Soldiers Memorial Hospital - Orillia
Sick Kids Hospital - Toronto
South Lake - Newmarket
Stronach Cancer Centre
We are still receiving requests for products from other facilities.
Who is apart of your team?
I would dearly love to have a photo of all who have contributed their materials and/or labour to this initiative which has enabled us to distribute to the many facilities or Organizations listed above but social distancing doesn't allow for this right now so I would like to mention the names of those individuals: Dan Kitchen for his special "Thank you" buttons, Sandra Lee, Diane Juzkow, Sara Clarke-Fowler, Larraine Wemyss, Shirley Kesseler Serdar, Yvonne Serdar de Bourbon, Faye Wright, Wilma Guthrie Smith, Pat Manorek, Karen Bambrough, Marg Dryfhout Van Harten, Diane Ratnik Cooper, Ward 4 Councillor Cria Pettingill, Marilyn Almeida, Terry Williamson, Nancy Briggs, Debbie Dawes, Rosemary Mainelly, Sharon Marvin, Therese Miller, Elaine Umphrey, Annemieke Dean, Gail Scruton, Shirley Wiggans and Amanda Benny. I also have to give mention to our Delivery Team, Regional Councillor Ted Smith and my partner in this endeavour John C. Grant, who has encouraged me since inception and has driven more than 2400 km. all over doing porch pickups and drop offs throughout Brock, the GTA, Kawarthas and Simcoe County. This has truly been a TEAM effort out of concern for our Front Line Workers and Essential Service Providers.
Do you have any other thoughts or comments you wish to share?
It's through difficult times like these we are experiencing globally, that makes one reassess what is important in our lives, that being love for family, friends, and helping one another!
If you wish to assist with this project, provide donations or just check out what this amazing group is doing for the community, please visit their Facebook page Brock Sews.
Featured Resident: Cassidy Taylor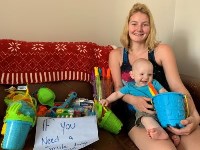 Ms. Cassidy Taylor has been spreading smiles and joy for those is her community through a SMILE bucket.
Your Name: Cassidy Taylor
How are you, and your family coping with COVID-19?
While my partner has started back at work, I spend the days at home with my 6 month old, either walking or we hangout inside where it's cool. We are constantly washing and sanitizing at home and on the go!
What are you doing to help with the fight against COVID-19?
Cassidy has been generously filling a SMILE bucket with various activities including bubble wands, sandbox toys and other fun activities for children and leaves it on her front yard for anyone to take from.
What inspired you to do this?
I was inspired to have the smile bucket by all the fairy groups on Facebook, as some family's don't have Facebook and some don't feel comfortable sharing their addresses and this is a fun way to fairy people while keeping their addresses safe!
Do you have any other thoughts or comments you wish to share?
My family and I would just like to say, Stay Safe Everyone!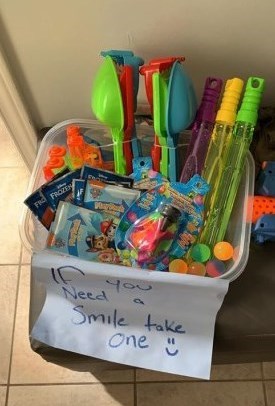 Ms. Taylor's updates on her SMILE bucket can be found at the Cannington Group Facebook page
We Want To Hear From You!
We want to hear about residents and businesses who are going above and beyond and feature them in an upcoming edition. Are you aware of a business or resident who fits this category? Email us!
For more information on the Township's fight against COVID-19, visit www.townshipofbrock.ca/covid19 and Subscribe to the COVID-19 newsfeed for up to date information.