The community, residents and businesses, have rallied together to face the challenges of COVID-19. Each week we are going to feature one business and one resident who has gone above and beyond in the fight of COVID-19 and we want to share these amazing stories!!
Featured Business: Maxine's Fashions in Beaverton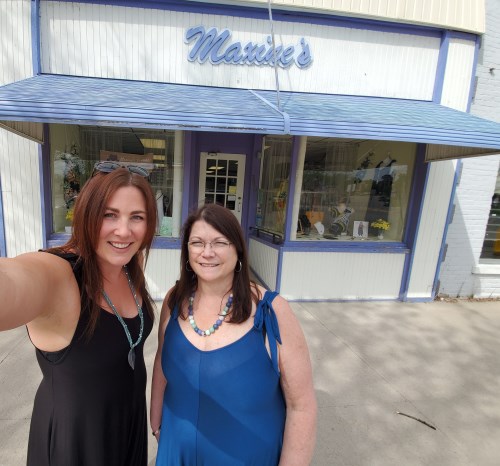 With Summer around the corner, what better way to enhance your summer wardrobe by supporting local and visiting Maxine's Fashions in Beaverton.
Your Name: Jeanette Tierney and Vanessa Koot
Your business Name: Maxine's Fashions
How are you, your family and staff members coping with COVID-19?
We certainly are coping with COVID-19 in many different ways. We had closed our doors, and only recently decided to reopen with limited hours. We continue to offer services in different ways. Most of our family members are working from home, or taking necessary precautions once they return home from work to keep their families safe. Both Jeanette and Vanessa work within the store, but rarely at the same time. It certainly makes working together on a business challenging, but we know it is worth it for our amazing customers.
What changes have you implemented as a result of COVID-19 to continue serving the public?
While we have been given the go ahead to open to the public several weeks ago, we decided that we were not ready/comfortable to open immediately. We took time working towards creating a safe shopping environment for our customers, which includes offering hand sanitizer, one way traffic, cleaning routines, and a plexi-glass barrier at the cash. We also continue to take phone, email, and social media orders. We regularly post on social media. We also launched a website [ www.maxinesfashions.ca ] that showcases the majority of our Spring collection. We continue to add to it when we can, and people can order that way. On all ordering platforms, we are offering porch drop offs, curb pick-ups, and shipping.
What inspired you to make changes to your business to help with the fight of COVID-19?
We love what we do. The store itself has been part of our community since 1969, and has evolved over the years. We love working with our customers and delivering the best quality items we can. When we are ordering for the following season, we often see items where we both look at each other and say "This would look so good on ____". We are extremely grateful to have that relationship with our customers. We want to continue to provide that exciting shopping experience for everyone and thus, we spend hours discussing how we can do so safely for everyone. We miss seeing everyone, and can't wait to see people in our store again. It's a learning curve for sure as we navigate a new way to deliver retail -- have patience with us, and please provide feedback!
Is there anything the community can do to better support your business?
Shop local!! Whether it is at our store, or a different one in our community. Buy gift certificates if you don't need anything right now, but know that you will shop down the road. If you don't have the resources to support financially, no worries! Share social media posts, refer and encourage friends to shop locally when they mention what they're looking for. If you're not sure if a business carries what you're looking for, just ask! We can promise you that they will try their best to get it for you, and help you find a business that can get it for you. When we spend money locally, a great percentage of money spent stays in the community and helps support our local families. Think of it this way -- If you support us, then we are able to support a different business. If someone supports me, I would then be able to look for local sanitizer, or paint for a project at home etc etc. The domino effect of supporting local can never be overstated. Plus, it allows us to help support local initiatives and youth groups.
Do you have any other thoughts or comments you wish to share?
We want to say a BIG thank-you to everyone who continues to support our local businesses. Our community has so much to offer, and these are very challenging and uncertain times for all. We thank everyone for doing their part to help keep our community alive -- from safely distancing while shopping, staying home if you're unwell, buying online where possible, and staying home if you can. And of course, thank-you to those who can't stay home, who go to work every day to ensure that we are safe and healthy. As a community, we are doing an amazing job together.
Keep up to date on the latest news from Maxine's Fashions or if you would like to shop online, check out their website at Maxine's Fashions or their Facebook page.
Featured Resident: Adeline Pettit of Adeline Pettit Images
Adeline Pettit uses her talents as a photographer to bring joy to those in the community while supporting the local veterans.
Names of those involved: Adeline Pettit of Adeline Pettit Images & my FB Community Group Brock's Ultimate Deals.
The name of your project: The Front Steps Project
How are you and your family coping with COVID-19?
I'm an essential worker so I still have some sort of a routine at the office every day. My family is doing and coping well at home with the initial quarantining with my husband still doing some piano work and repairs in our workshop.
What inspired this idea?
I came across The Front Steps Project online. Kristen Collins & Cara Soulia photographers from Boston, Massachusetts started this idea in March to support their local charity in times of crisis in their community. Within weeks this idea took off and photographers used their time and talents and replicated this in hundreds of towns in USA & across Canada.
This inspired me to bring this endeavour to our community and neighbouring towns and at the same time support our veterans through donations proceeds in this unprecedented crisis we are facing. Due to this pandemic quarantine and with all of us unable to gather in large groups, it is great to see this project take off with such overwhelming and positive responses from our community.
That 5 to 10 mins that families can dress up or down, just being their authentic selves and we can still physically distance with a camera capturing their smiles and uniqueness has just been so special to witness and be a part of. With their photos posted & shared on FB with their consent, it gives other family members and friends a chance to see the faces and company they miss during this time of isolation at home. It also portrays family bonding and togetherness. I wanted to go a little extra to catch the uniqueness of each family portrayed in the photos.
Any other thoughts or comments you wish to share?
I started this project May 20 and as of June 19, I have travelled and completed taking Front Steps porch pictures of families, groups & businesses in 56 homes and locations with 235 participants and we are not done yet.
I would like to thank the community for wholeheartedly supporting this project and most importantly supporting our Veterans Beaverton Legion!
Thank you for the privilege of taking your photos, capturing your smiles and allowing me to catch unique glimpses into your family's lives. These special memories and moments to be looked back and treasured for years to come capturing history remembering Year 2020.
How can the community continue to contribute to the project?
Please feel free to contact me on my FB community page Brock's Ultimate Deals or Adeline Pettit Images.
We Want To Hear From You!
We want to hear about residents and businesses who are going above and beyond and feature them in an upcoming edition. Are you aware of a business or resident who fits this category? Email us!
For more information on the Township's fight against COVID-19, visit www.townshipofbrock.ca/covid19 and Subscribe to the COVID-19 newsfeed for up to date information.