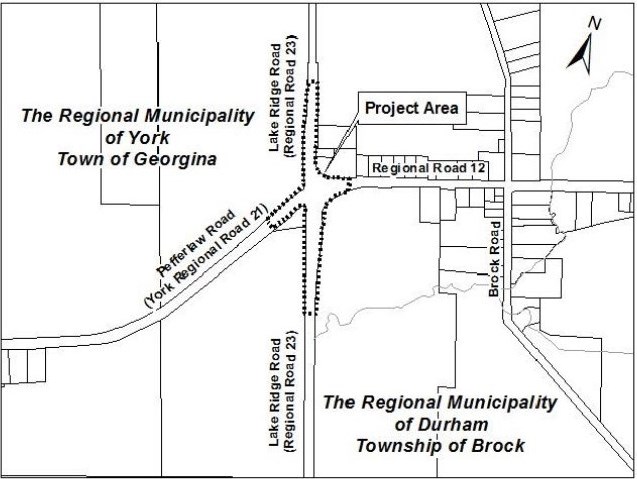 The Regional Municipality of Durham will continue the roundabout construction at the intersection of Lake Ridge Road (Regional Road 23) and Regional Road 12 / Pefferlaw Road. Remaining work includes roadway illumination, completion of the median circle, hot mix paving, pavement marking, landscaping and restoration.
Construction Schedule
The Region's contractor, Primrose Contracting Inc., will recommence work the week of June 1 and expects to complete the work by July 17. Please note that unfavorable weather conditions may influence the work schedule.
Lane Restrictions
Daily lane restrictions will be minimal but are permitted at certain times throughout the duration of the project. Drivers should expect delays within the construction limits.
Municipal construction projects include the use of equipment which may cause noticeable noise and vibration for nearby residents.
The Region realizes that the construction work will be disruptive and will complete the work as quickly and efficiently as possible. Drivers are asked to exercise additional caution for pedestrian, cyclist, and construction worker safety.
For more information on roundabouts, visit durham. ca/roundabout