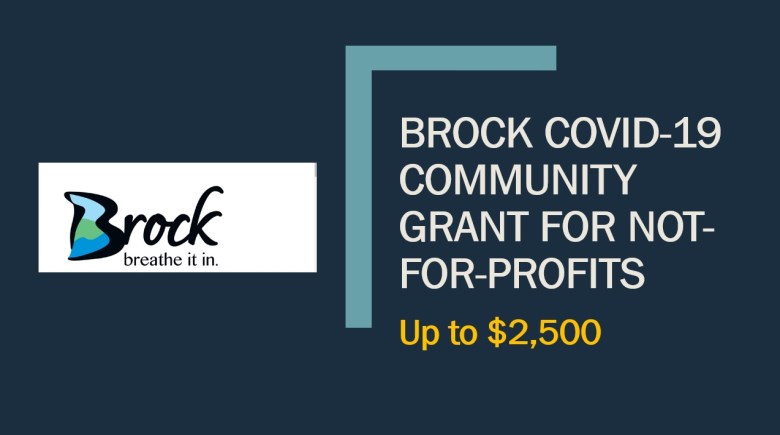 The Township of Brock has set up a $30,000 Brock COVID-19 Community Grant for Not-For-Profits. This fund will grant eligible not-for-profits, who have seen a 30 per cent reduction in revenue (i.e. fundraising), up to $2,500. Council approved this program at its meeting held on Monday, August 10, 2020.
"Council acknowledges the efforts of our local volunteer community and believes that many services, events or projects are best provided through the volunteer efforts of local community organizations," said Mayor Debbie Bath-Hadden. "Since March of this year, many of our community organizations have been faced with hardships due to the recent pandemic. To assist our local community not-for-profit organizations during these challenging times, the township is offering a one-time grant. The Brock COVID-19 Community Grant for Not-For-Profits is intended to provide some financial relief and assistance to not-for-profit, volunteer community organizations who provide direct services, events or programs to the benefit of the residents of Brock."
The money for the Brock COVID-19 Community Grant for Not-For-Profits will come from savings in the 2020 operating budget. The funds will be given out as grants to qualifying local not-for-profits with amounts up to $2,500. Any not-for-profit that received funding from the BERB, is not eligible for the Brock COVID-19 Community Grant for Not-For-Profits.
The following criteria must be met to be eligible for the Township of Brock COVID-19 Community Grant for Not-For-Profits:
Not-for-profit or volunteer based organizations within the Township of Brock or the Region of Durham delivering programs, events or services to the residents of Brock. Regionally based organizations must provide details demonstrating how their service will directly benefit the residents of Brock; and
Experienced a 30% loss of revenue (fundraising, registration fees, etc.) due to COVID-19.
Grants may be provided to eligible applicants as defined above, for:
General operating and capital expenses;
COVID-19 Related expenses;
Activities/events generally occurring within Township boundaries; or
For programs, activities and events addressing a community need or contributing to the positive image of the Township.
The Grant is not intended to provide funding:
To organizations with a political mandate, such as citizen ratepayers associations;
To individuals;
To organizations that provide services or programs that are the responsibility of another level of government; and
For debt repayment.
The intake for the program will be August 12 – September 9, 2020. The Application and additional information on the program is available online.
For the latest information and updates on municipal operations, cancellations and closures, visit townshipofbrock.ca/COVID-19.