Current Situation in the Township of Brock
As the outbreak of COVID-19 continues to evolve globally, the Ontario Ministry of Health is advising all residents to:
Avoid all non-essential travel outside of Canada.
Note: Children under the age of 16 will be required to self-isolate upon their return to Canada.
Remain home when sick and avoid all contact with people who are sick.
The Township of Brock has a newsfeed dedicated to COVID-19. Subscribe to the COVID-19 newsfeed for up to date information.
The Township of Brock has compiled a list of FAQs.
Stage 3 - What you need to know
Durham Region entered Stage 3 of the provincial reopening plan on Friday, July 24, 2020. Stage 3 allows an increasing number of businesses and public spaces to open across the province, including gyms, bars, movie theaters, and indoor dining establishments, provided they adhere to public health recommendations.
Brock residents and businesses are encouraged to check out the Community Reopening Toolkit. It includes resources for a variety of industries and guidance documents. Some highlights:
New Gathering Limits:
Indoor gathering limits increase to a maximum of 50 people
Outdoor gathering limits increase to a maximum of 100 people
Individuals who are not from the same household or social circle are still required to maintain physical distancing of at least two metres
Playgrounds and Play Structures
Outdoor playgrounds and play structures are permitted to reopen. The Township opened its playgrounds on Saturday, July 25th.
Physical distancing of at least two metres must be maintained (except between individuals from the same household or social circle)
Restaurants
Indoor dine-in permitted
All patrons must be seated when eating or drinking at the establishment
Establishments must take measures to ensure physical distancing of at least two metres between patrons from different tables, unless separated by an impermeable barrier
Buffet-style service is not permitted
Physical distancing applies to food trucks, food courts, concession stands and tours (ie. tastings at wineries, breweries and distilleries)
Mask Use
Masks or face-coverings are mandatory in all commercial establishments, including retail and convenience stores, malls, enclosed farmers' markets and business office open to the public;
People who remain exempt from wearing masks or face coverings are: individuals with health, respiratory and sensory issues; various disabilities; are unable to remove the mask without assistance; children under the age of two; or other valid reasons.
A Framework for Reopening our Province - Stage 3
Stage 3 Information and Resource Package
Not-for-Profit Support
The Township of Brock has set up a $30,000 Brock COVID-19 Community Grant for Not-For-Profits. This fund will grant eligible not-for-profits, who have seen a 30 per cent reduction in revenue (i.e. fundraising), up to $2,500. Council approved this program at its meeting held on Monday, August 10, 2020.
The money for the Brock COVID-19 Community Grant for Not-For-Profits will come from savings in the 2020 operating budget. The funds will be given out as grants to qualifying local not-for-profits with amounts up to $2,500. Any not-for-profit that received funding from the BERB, is not eligible for the Brock COVID-19 Community Grant for Not-For-Profits.
Eligibility
The following criteria must be met to be eligible for the Township of Brock COVID-19 Community Grant for Not-For-Profits:
Not-for-profit or volunteer based organizations within the Township of Brock or the Region of Durham delivering programs, events or services to the residents of Brock. Regionally based organizations must provide details demonstrating how their service will directly benefit the residents of Brock; and
Experienced a 30% loss of revenue (fundraising, registration fees, etc.) due to COVID-19.
Grants may be provided to eligible applicants as defined above, for:
General operating and capital expenses;
COVID-19 Related expenses;
Activities/events generally occurring within Township boundaries; or
For programs, activities and events addressing a community need or contributing to the positive image of the Township.
The Grant is not intended to provide funding:
To organizations with a political mandate, such as citizen ratepayers associations;
To individuals;
To organizations that provide services or programs that are the responsibility of another level of government; and
For debt repayment.
The intake for the program will be August 12 – September 9, 2020. The Application and additional information on the program is available online.
Read the official news post.
Stage 2
Effective 12:01 a.m. July 10, 2020, instructions to all commercial establishments currently operating during Stage 2 within Durham Region
Stage 2 permits patios to open in Durham Region
Effective June 19, 2020, the Township of Brock moved into Stage 2 of the provincial government's re-opening plan. As part of this stage, restaurants may open patios—with the option to expand patios on a sidewalk and/or curb/parking lane—in addition to providing take out and/or delivery service.
As per the requirements of Ontario Regulation 263/20, restaurants interested in adding a temporary patio or expanding an existing patio must receive approval from their local municipality. In addition, restaurants wishing to serve alcohol on a temporary patio must receive municipal consent as per Regulation 719 under the Liquor Licence Act (LLA).
Restaurants interested in expanding or creating a patio in the Township of Brock are asked to submit a written request with their business name, address and location, along with a site plan/layout of the proposed patio to brock@townshipofbrock.ca. Your request will be reviewed by Township staff and an inspection conducted to ensure it meets all statutes (building, fire, liquor, etc.). In addition, if your request involves a Regional roadway, a road occupancy permit from the Region of Durham may be required. The Region of Durham is committed to working with area municipalities to support and expedite Road Occupancy Permit applications.
Restaurants are not permitted to use the extended patio until they receive approval from the Township of Brock. This is to ensure the health and safety of all. The Township is committed to addressing all requests for temporary patios in a timely manner and working with businesses to ensure all appropriate requirements are in place.
Restaurants who have existing patios and are not requesting a temporary extension do not require approval from the Township of Brock.
All restaurants are reminded to abide by and instruct all guests to abide by, all governmental regulations pertaining to health and safety, particularly with respect to physical distancing and frequent cleaning and disinfecting of the patio during use.
For additional restaurant and food safety guidelines:
For additional information on temporary patios in the Township of Brock, please contact Ms. Becky Jamieson, Municipal Clerk at clerks@townshipofbrock.ca or 705-432-2355 ext. 240.
Township of Brock Facility Closures including a List of Amenities that are Open or Closed
Township of Brock facilities currently closed indefinitely:
Foster Hewitt Memorial Community Centre Beaverton
Rick MacLeish Memorial Community Centre Cannington
Sunderland Brock Memorial Arena
The following community facilities:

Wilfrid Hall
Sunderland Town Hall
Manilla Hall
Beaverton Town Hall (with the exception of the Service Ontario office)
Please note: All bookings in Township facilities have been cancelled. The Township will not be accepting bookings for any of our facilities until further notice.
List of Amenities that are Open or Closed

| Amenity | Reopening Date* |
| --- | --- |
| Beaverton Harbour Boat Launch | Opened Friday, May 22 |
| Other Public Boat Launches | Opened Friday, June 19 |
| Beaverton Harbour Docks | Opened Friday, May 22 |
| Beaverton Harbour Pier | Closed at this time |
| Beaverton Harbour Splash Pad | Opened Monday, July 6** |
| Beaverton Harbour Kayak Dock | Opened Monday, July 6** |
| Thorah Island Docks | Opened Saturday, May 16 |
| Sunderland and Beaverton Lion's Walking Trails | Opened Friday, May 22 |
| Other Township walking trails | Opened Friday, June 19 |
| Beaches | Opened Monday, July 6** |
| Picnic Shelters | Opened Friday, June 26 |
| Skateboard Parks | Opened Wednesday, June 10 |
| Tennis Courts | Opened Friday, May 22 |
| Basketball Courts | Opened Wednesday, June 10 |
| Baseball Fields | Opened Friday, June 26* |
| Sports Fields | Opened Friday, June 26* |
| Municipal Facilities (including Municipal Administration Building) | Closed to the public at this time |
| Municipal Playgrounds | Opened Saturday, July 25 |
| Public Washrooms | Closed at this time |
Use only permitted when maintaining physical distance of at least two metres (or six feet) between yourself and any person living outside of your household or social bubble. Many of the Township amenities are not sanitized and are "Use At Your Own Risk."
*Non-team play is permitted only and group play is limited to people in your same household or social bubble.
**Open for Brock residents and property owners only. Maximum number of individuals in the Splashpad is 15.
***Open for Brock residents and property owners only.
Council and Committee Meetings
All public meetings and open houses have been suspended.
Council meetings will continue, however, they will be held electronically. The public questions & clarification and delegations sections of the agenda have been suspended until further notice. Public can live stream the meetings.
All Township appointed boards and advisory committees are suspended.
Recreation Programming
The Township's fitness programs have been cancelled until further notice.
The Summer Day Camp program has been cancelled.
COVID-19 Durham Region Updates
For Regional information on the current situation, please visit Durham Region's website or visit Durham Region's Newsroom.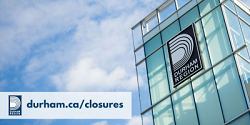 COVID-19 Non-Compliant Reporting Process
On March 17, 2020, the Province of Ontario declared a Provincial emergency through the authority granted under the Emergency Management and Civil Protection Act (EMCPA) as a result of COVID-19. Since this time several emergency orders have been issued by the Province under the Act to contain the spread of COVID-19 and to ensure that essential services continue to be provided and Ontarians are supported.
In order to assist DRPS with the enforcement of EMCPA, municipal by-law enforcement officers will be enforcing some EMCPA orders Monday-Sunday from 8:30 a.m. to 4:30 p.m. only. Outside of these hours, DRPS will be handling enforcement. Township of Brock by-law enforcement officers will be enforcing the following EMCPA orders:
Gathering of more than 10 people;
Non-compliant business; and
Use of closed outdoor facilities (playgrounds, beaches, etc.).
In order to submit a COVID-19 Non-Compliant Complaint fill out the Non-Compliant Form.
The Township of Brock will only investigate complaints received Monday through Sunday between the hours of 8:30 a.m. to 4:30 p.m. Any complaints outside of these hours are to be made directly to DRPS as noted below.
DRPS COVID-19 Non-Compliant Reporting Process
Citizens can report a gathering of more than 10 people or a non-compliant business on www.drps.ca under Online Services - Community Concerns. As a secondary option, citizens can call the DRPS non-emergency line at 1-888-579-1520, ext. 5802 and leave a message. The DRPS will endeavor to respond to these calls in a timely manner, however, our focus continues to be on emergency calls for service.
Call the Stop the Spread Business Information Line at 1-888-444-3659 for clarification whether a situation falls under the non-compliance orders. Assistance is available Monday to Sunday, from 8:30 a.m. - 5 p.m. For more information visit: ontario.ca/stopthespread.
For the most up-to-date public information about COVID-19 in Durham Region, refer to www.durham.ca/NovelCoronavirus. Citizens can contact Durham Public Health via email at health@durham.ca, or by phone at 1-800-841-2729 or 905-668-2020.
Reports regarding price gouging must go directly to the Province of Ontario. File a complaint at 1-800-889-9768 between 8:30 a.m. and 5:00 p.m., Monday to Friday, or file a report online.
COVID-19 Community Resources
MCI offers medical assistance where patients can connect with physicians from the comfort of their homes through telephone consults and/or virtual care, as well as traditional walk in services in many of their clinics. This is free of charge with a valid OHIP card, and no administration fee.
Resource for Community Gardens
Community Gardens are permitted to open during the COVID-19 pandemic. Gardens operating in Durham Region are required to follow the recommendations specified by the Durham Region Health Department
COVID-19 Business Resources
Access to Government Websites
What is Social Distancing?
Social distancing is maintaining a distance between you and other people — at least two meters (six feet). Durham Region Health Department is recommending that all residents practice social distancing to help stop any transmission of the novel coronavirus (COVID-19) in the community. Limit the number of people you come into close contact with.
How can you do your part?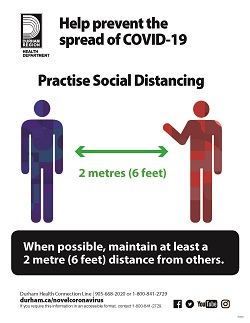 Avoid gatherings such as parties or other group events

Avoid visits to Long-Term Care Homes, Retirement Homes, Supportive Housing, Hospices and other shared care settings unless absolutely essential. This is the best way to protect those at high risk.

Avoid any non-essential trips in the community – e.g. consider take out or delivery options rather than restaurant meals

Shop for essential grocery or pharmacy items when stores might be less busy

Work from home
Important
This information does not apply to people who have been advised to Self Isolate. If you have been advised to self-isolate, you must stay home and follow the public health directions provided.