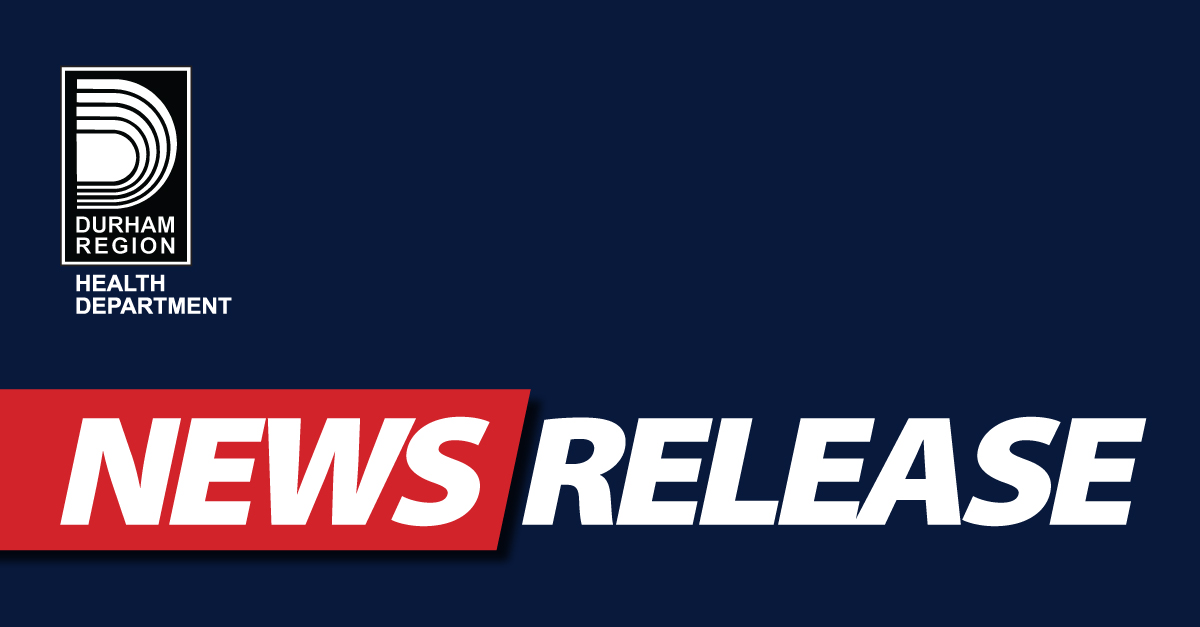 Posted on Wednesday, April 20, 2022 12:50 PM
Whitby, Ontario - Durham Region Health Department has received a limited supply of the Novavax Nuvaxovid (Novavax) COVID-19 vaccine. Novavax offers a new COVID-19 vaccine option for individuals who are not able to receive an mRNA COVID-19 vaccine or have been waiting for an alternative to the mRNA vaccines. Janssen (Johnson & Johnson) COVID-19 vaccine is no longer available at Durham Region COVID-19 community immunization clinics.
The two-dose Novavax COVID-19 vaccine is available for adults...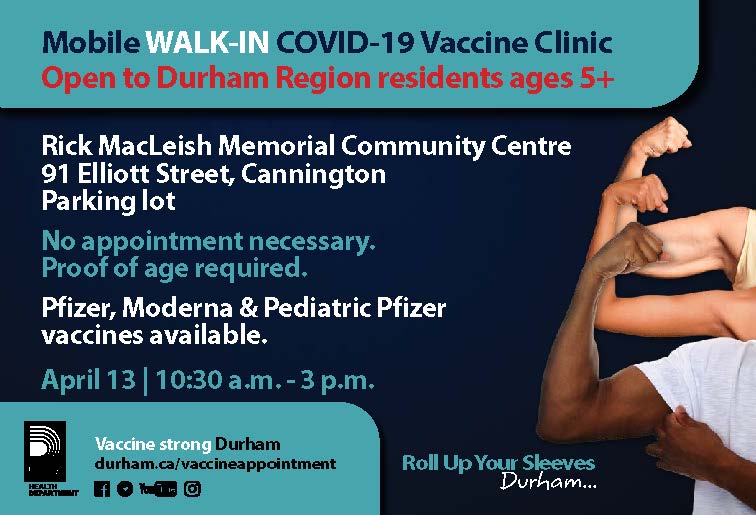 Posted on Tuesday, April 12, 2022 09:35 AM
Mobile WALK-IN Covid-19 Vaccine Clinic
Open to Durham Region residents ages 5+
Rick MacLeish Memorial Community Centre, 91 Elliott Street, Cannington - Parking Lot
No appointment necessary.
Proof of age required
Pfizer, Moderna & Pediatric Pfizer vaccines available
April 13th 10:30 a.m. - 3:00 p.m.
For more information please contact the Durham Region Health Department.
Posted on Wednesday, February 16, 2022 10:45 AM
If you are looking for more information about the COVID-19 Vaccination for children 5-11 years old you can book an appointment with a Sick Kids clinician by calling 1-888-304-6558 or through their website at www.sickkids.ca/vaccineconsult
For reliable resources and vaccine clinic dates please visit durham.ca/covidvaccines#Children-5-11 or call the Vaccine Confidence Line 1-833-943-3900

Posted on Monday, February 14, 2022 10:05 AM
Ontario Moving to Next Phase of Reopening on February 17
Improvements in key indicators allowing province to safely ease public health measures sooner
February 14, 2022
Premier's Office
TORONTO — With key public health and health system indicators continuing to improve, the Ontario government, in consultation with the Chief Medical Officer of Health, is cautiously and gradually easing public health measures sooner, with the next phase of measures being eased on February...

Posted on Friday, January 28, 2022 12:52 PM
The Township of Brock will begin the safe and gradual reopening of its Municipal Administration Building for in-person services in alignment with public health guidelines. Beginning January 31st, 2022, the Municipal Administration Building located at 1 Cameron Street, E. Cannington will be open to the public from Monday to Friday 8:30 a.m. – 4:30 p.m. Appointments are preferred, as some staff members continue to work from home. Appointments can be made by calling (705) 432-2355.
Please...