Are you looking for a fun way to stay active during your school breaks? The Township of Brock offers day camp programs for children between the ages of 4 and 12. Our camps include weekly themes, crafts and a variety of activities for your kids to enjoy!

Summer Camp Update:
Please be advised that the Township of Brock is currently planning for a modified summer camp program to run in the summer of 2021 following the
Ministry of Health's COVID-19 Guidance for Summer Day Camps
. Summer Day Camp registration will open on Wednesday, June 9 at 10:00am. Please note registration is
online only
.
Note: In the event of camp program cancellation, participants will be contacted with refund/ credit options. We encourage individuals to register on the program waitlist, should their desired program be full. In the event of a cancellation or eased COVID-19 guidelines, participants will be pulled from the waitlist to fill spots.
Hours
Day camps run Monday to Friday from 8:30 a.m. to 4:30 p.m. during the summer as well as over winter break and March break.
Parent Handbook
Review the 2021 Parent Handbook.
Township of Brock Summer Camps COVID-19 Policies and Procedures
The Township of Brock Summer Day Camp remains committed to providing a safe and enjoyable environment for our campers, their families, and our staff team. We continue to work with provincial and local health authorities and follow all public health guidelines to ensure a safe summer camp experience for all.
Please note that summer camp programming is subject to change without advanced notice, due to the fluid nature of the COVID-19 pandemic. The Township of Brock will make every effort to promptly communicate the status of programs with registered participants, should modifications be necessary. Please find below our current practices as they relate to the COVID-19 pandemic.
Updated Health & Safety Practices:
Camp Cohorts
Camp programs will operate in consistent cohorts, which will stay together for the duration of the program.
Cohorts may not mix with other cohorts.
Programming
Activities will include a variety of outdoor and indoor games, sports, water games, activities and more!
Camp staff will make best efforts to plan and/or adapt activities to be enjoyed with safe physical distancing in place.
Some activities may require face coverings if physical distancing cannot be maintained.
Face Coverings
Brock Summer Day Camp will align face covering policies with those listed in the Ministry of Health Guidance for Summer Day Camps.
A face covering will be required for both campers and staff while indoors and when proper physical distancing cannot be maintained between participants and cohorts.
Masks may be required outdoors in the event appropriate physical distancing cannot be maintained.
More information on the required use of face coverings will be provided to parents/guardians prior to the first day of camp.
Cleaning Measures
All current infection prevention and control practices will be adhered to in accordance with the Ministry of Health and Durham Region Public Health guidelines.
Brock Summer Day Camps will implement strict screening measures and take time to sanitize and disinfect spaces and equipment.
Our facilities will be cleaned and sanitized more frequently with special attention to high touch surfaces like door handles and tabletops.
Floor markers will be placed in transition areas and used during activities to promote physical distancing.
Screening
Each camp group will have a designated pick-up/drop-off location where physical distancing will be supported.
Staff, parents, and campers will be required to wear appropriate PPE during arrival and departure. Parents and campers will be informed of PPE requirements prior to the first day of camp.
Pick and drop-off of camp participants will take place outdoors and will support physical distancing and cohorting strategies.
Camp staff will be required to self-screen prior to arrival at camp.
Campers will be screened by camp staff upon arrival at camp.
Campers who do not pass the screening will not be permitted to attend camp.
Further information on screening protocols will provided prior to the first day of camp.
Event of Illness at Camp
Brock Summer Day Camp will work in conjunction with Durham Region Public Health to determine appropriate action in the event of illness at camp. More information on the management of camp participants with suspected COVID-19 symptoms will be available in your camp package, prior to the first day of camp.
Camp Packages
All camp specific program information and documentation will be sent out via email to the address associated with the campers account by the Friday before the camp start date.
Please ensure that your email address, emergency contacts, and camper medical/ special request information is up-to-date in your client account on our system.
Make a Donation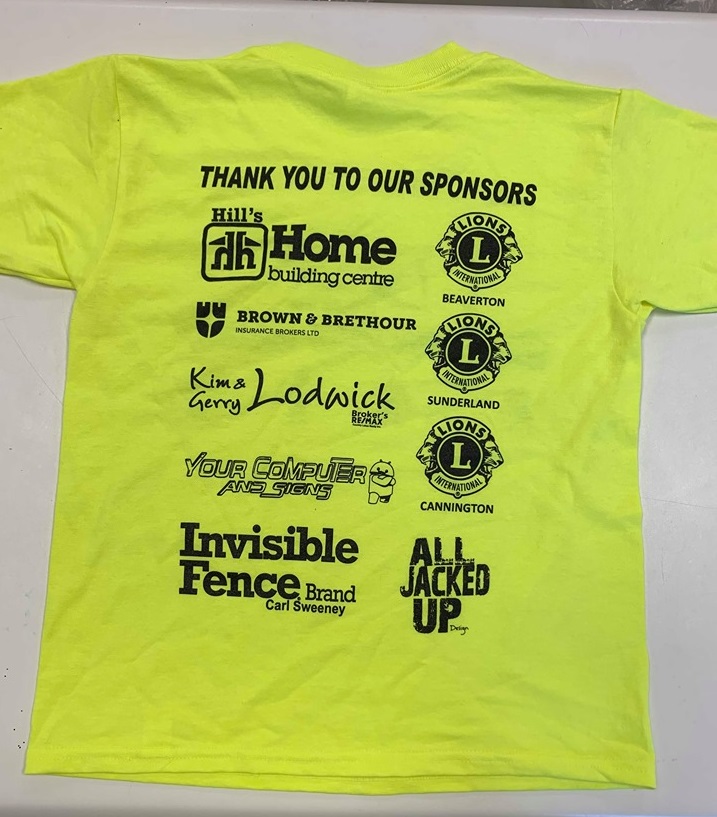 If you would like to sponsor or donate to our day camps program, please contact us by email or give us a call at 705-432-2355 ext. 243. Without the support of our generous sponsors, weekly trips and new camp materials wouldn't be possible.
All contributors will receive recognition on the back of the campers t-shirts. We accept all contributions, including camp materials.
Sponsorship Levels
We offer a variety of sponsorship levels.
Major Sponsorship
You must donate at least $250 to become a major sponsor. As a major sponsor, you will receive:
Advertising space at the registration table
Logo on official camp t-shirts
Logo on information letters that go home weekly
T-shirt Sponsor
You must donate at least $100 to get your official logo on all camp t-shirts.
Sponsor
To get sponsorship status, you must donate at least $25 and we will have your business listed on our camp t-shirts.
Cancellation Policies
Review our Day Camp Registration Policy to learn about how we handle cancellations and refunds.
Cancellations
If you want to cancel enrolment in a day camp, you must provide one-week advanced notice. There is a $20 service fee for all cancellations. This fee will not be charged if we cancel one of the day camp programs.
Refunds
Learn how to request a refund for a day camp program:
Complete the Request a Refund form and submit via email
Complete and submit the form
Once reviewed and approved, we will issue the refund through the online recreation software or by cheque
Switching Sessions
Please review these rules if you want to switch day camp sessions:
You must pay a $20 service fee to switch sessions
You can only switch to a session of similar value (i.e., if you paid for a regular week session, you can't switch into a short session)
You must provide one-week advanced notice to switch sessions
You can't switch to a week that is already at capacity
Complete the Switching Session form and submit via email
You must submit the form to switch session and pay the service fee