The Township of Brock offers many fitness classes for you to enjoy! From yoga classes to Zumba, we have classes for every fitness level. Just drop-in and take part in one of our classes, no registration required.
Schedule
Find a fitness class that fits your schedule.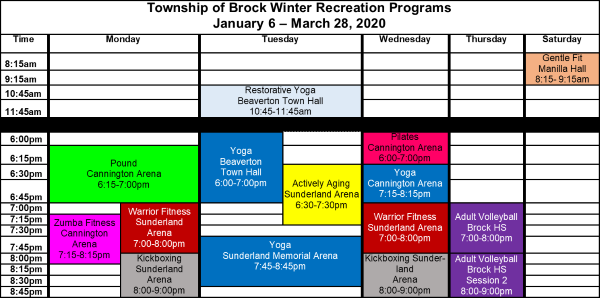 Mondays:
Pound Fitness - 6:15pm - Rick MacLeish Memorial Community Centre
Zumba Fitness - 7:15pm - Rick MacLeish Memorial Community Centre
Warrior Fitness - 7:00pm - Sunderland Memorial Arena
Kickboxing - 7:00pm - Sunderland Memorial Arena
Tuesdays:
Restorative Yoga - 10:45am - Beaverton Town Hall
Beaverton Yoga - 6:00pm - Beaverton Town Hall
Actively Aging - 6:30pm - Sunderland Memorial Arena
Sunderland Yoga - 7:45pm - Sunderland Memorial Arena
Wednesdays:
Pilates - 6:00pm - Rick MacLeish Memorial Community Centre
Cannington Yoga - 7:15pm - Rick MacLeish Memorial Community Centre
Warrior Fitness - 7:00pm - Sunderland Memorial Arena
Kickboxing - 8:00pm - Sunderland Memorial Arena
Thursdays:
Adult Volleyball - Session 1 - 7:00pm - Brock High School
Adult Volleyball - Session 2 - 8:00pm - Brock High School
Saturdays:
Gentle Fitness - 8:15am - Manilla Hall
Passes and Rates
It costs $5 to attend one of our drop-in fitness classes. If you attend our classes regularly, you may want to purchase a pre-paid fitness class pass. Our 12-class pre-paid fitness class costs $50 and includes two free classes!
Fitness Program Descriptions
View the program descriptions for each fitness class available in the Township of Brock. You must be 14 years of age or older to participate in Warrior Fitness and Kickboxing classes. All other fitness classes are open to all ages.
Actively Aging
Actively Aging is ideal for older adults who are looking for a workout that is a little more challenging, and at a moderate intensity level. Using light hand weights and resistance bands throughout the workout, participants will focus on cardio, strength, balance and stretching while enjoying the company of others in a safe and fun environment.
Gentle Fit
Gentle Fit is ideal for older adults and those who are starting an exercise program. The class provides a challenging, effective workout at a gentle pace and includes:
Cardio conditioning
Strength training
Endurance training
Power training
Balance
Flexibility
Stretching
All of this is done while enjoying music with an instructor and a group of friendly participants.
Kickboxing
Are you ready to kick your fitness into higher gear? Kickboxing will help sculpt your body into a fantastic new you! Each workout will leave you feeling great as you kick and punch away your stress and burn 800+ calories. No experience necessary. Our certified Kickboxing Canada instructors will help guide you through the workout.
Pilates
Pilates is a form of full body exercise that develops strength, control and concentration. Classes are suitable for all ages and abilities. All you need is a mat! Some benefits of Pilates include:
Longer leaner muscles
Proper alignment
Core stability
Injury reduction
Increased flexibility and endurance
Stress reduction
Pound Fitness
Sweat, sculpt and rock with Pound Fitness. This is one of the fastest growing fitness phenomenons inspired by the sweat-dropping, infectious, energizing fun of drumming! Pound is a full body cardio jam session championed by fitness rebels around the world. There are a limited number of drumsticks available so arrive on time to ensure you get a pair!
Restorative Yoga
Restorative yoga typically involves three to four poses, supported by props that allow you to completely relax and rest. You will hold each pose for up to 15 minutes including light twists, forward holds and gentle backbends. This is slightly different from traditional yoga, but you will still leave feeling relaxed.
Warrior Fitness
Our Warrior Fitness classes will help you take your workout to the next level. Warrior Fitness is a high intensity interval-training workout that will give you that lean, shredded looking body! This class combines strength, core, mixed martial arts conditioning and high intensity cardio. Make sure to bring a mat and water!
Yoga
Yoga classes help you find connection between your breath, mind and body as you flow through a series of yoga postures. You will leave feeling calm, focused and energized. Classes are for all levels – no yoga experience necessary. Please bring a yoga mat and water to each class.
Zumba
Zumba Fitness is a global lifestyle brand that fuses fitness, entertainment and culture into an exhilarating dance-fitness sensation! These classes are like fitness parties that blend upbeat world rhythms with easy-to-follow choreography, for a total-body workout that feels like a celebration.