Emergency planning can help prevent an emergency from becoming a disaster. Learn what you can do to keep your family safe in the event of an emergency.
Emergency Public Awareness Program
Visit the Region of Durham and Emergency Management Ontario for tips to help you prepare for an emergency, including how to: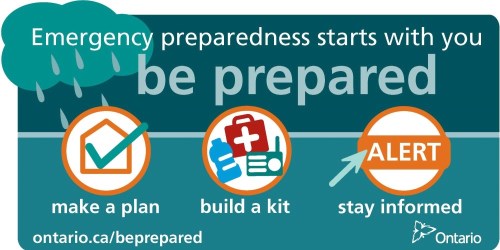 Emergency Plan
The Township of Brock Emergency Plan outlines the roles and responsibilities of Council and staff if an emergency is declared by the Mayor.
Hazard Identification
There are a number of potential hazards that could result in an emergency.
Natural Hazards
The following natural hazards could result in a state of emergency in the Township of Brock:
Flooding from Lake Simcoe, Beaver and Talbot Rivers, Whites Creek, Trent-Severn Waterway as well as many tributaries
Extreme cold weather
Heavy rain
Snow fall and ice storms
High winds
Electrical storms
Heat waves
Technological Hazards
The following technological hazards exist in the Township of Brock:
Communication facility failures (land line and cellular telephone infrastructure such as transmission towers)
Electrical transmission towers and substations that supply power
Man-made Hazards
The following man-made hazards exist in the Township of Brock:
Highway, regional and township road networks that support heavy goods movements and seasonal increases in traffic
Canadian National Railway, which bisects Beaverton and is close to shoreline residential areas carrying significant volumes of heavy goods and chemicals
Infrastructure (buildings, equipment and bridges)