The Township of Brock's Fire Department helps keep our community and residents safe. We offer response services as well as:
Current Burn Hazard Conditions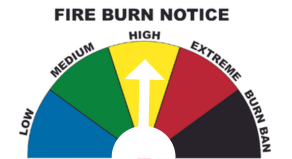 The Current Burn Hazard is HIGH RISK.
Recreational, Open Air and Agricultural Burning is permitted providing residents have a 2023 Burn Permit.
LOW: Please burn responsibly
MEDIUM: Please use caution when burning
HIGH: Please use extreme caution when burning
EXTREME: A voluntary Burn Ban is in effect
BURN BAN: No open air burning is permitted
Tax Adjustment
If your property was damaged by fire, you may qualify for a property tax adjustment. Learn how to apply.
Jobs and Training
We will advertise job postings periodically as they become available. All fire personnel receiving on-going training in the following areas:
First Aid/CPR/AED
Auto extrication
Ladder and hose training
Self-contained breathing apparatus
Driver training
Search and rescue operations
HAZMAT awareness
Propane and natural gas
Ice water rescue
Annual Reports
View the annual reports for the Fire department:

Fire Department Master Plan
The Fire Department Master Plan provides a complete review of the current operations of the Township of Brock Fire Department. The Plan includes recommendations to address both short-term and long-term strategies for the municipality.