In the Township of Brock, the Committee of Adjustment schedules public hearings to review and consider minor variance applications. Minor variances are often required if a building project does not meet the requirements of our Zoning By-law.
Applying for a Minor Variance
Please send a completed Minor Variance Application and Environmental Site Screening Questionnaire to the Planning Department to get started. If you're planning a building project, please check with the Building Department to ensure your plans follow our by-laws and requirements. This helps to reduce delays in your project.
Tips for completing your application: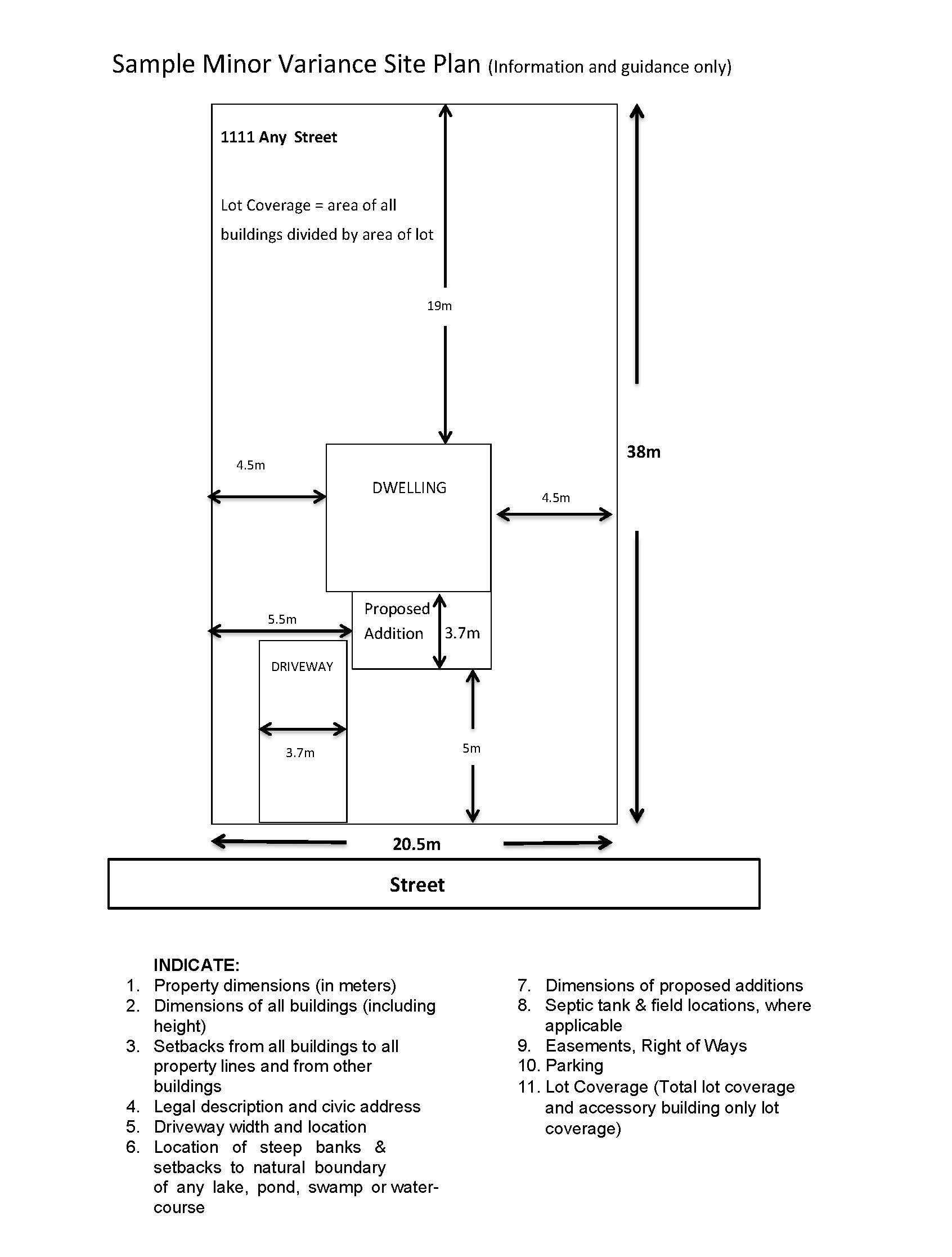 Ensure your site plan denotes all buildings and the distance from lot lines and other buildings in meters. An example site plan for your information is available.
To understand all of your set-backs etc., please view the following Plates from our zoning by-law:
Payments should be made by separate cheques to the appropriate agencies. This will be confirmed with you prior to your application submission.
If you need support getting your application Commissioned, please contact the Planning Department to set up an appointment.
It is encouraged that all applications be submitted electronically. If this isn't possible for you, we can still accept paper copies.
Minor Variance Hearings
Minor Variance Hearings are scheduled once per month. If no applications are received within the application acceptance period, that month's hearing is not held. A full schedule of hearing dates, application deadlines, signage deadlines and appeal periods is available for the full year.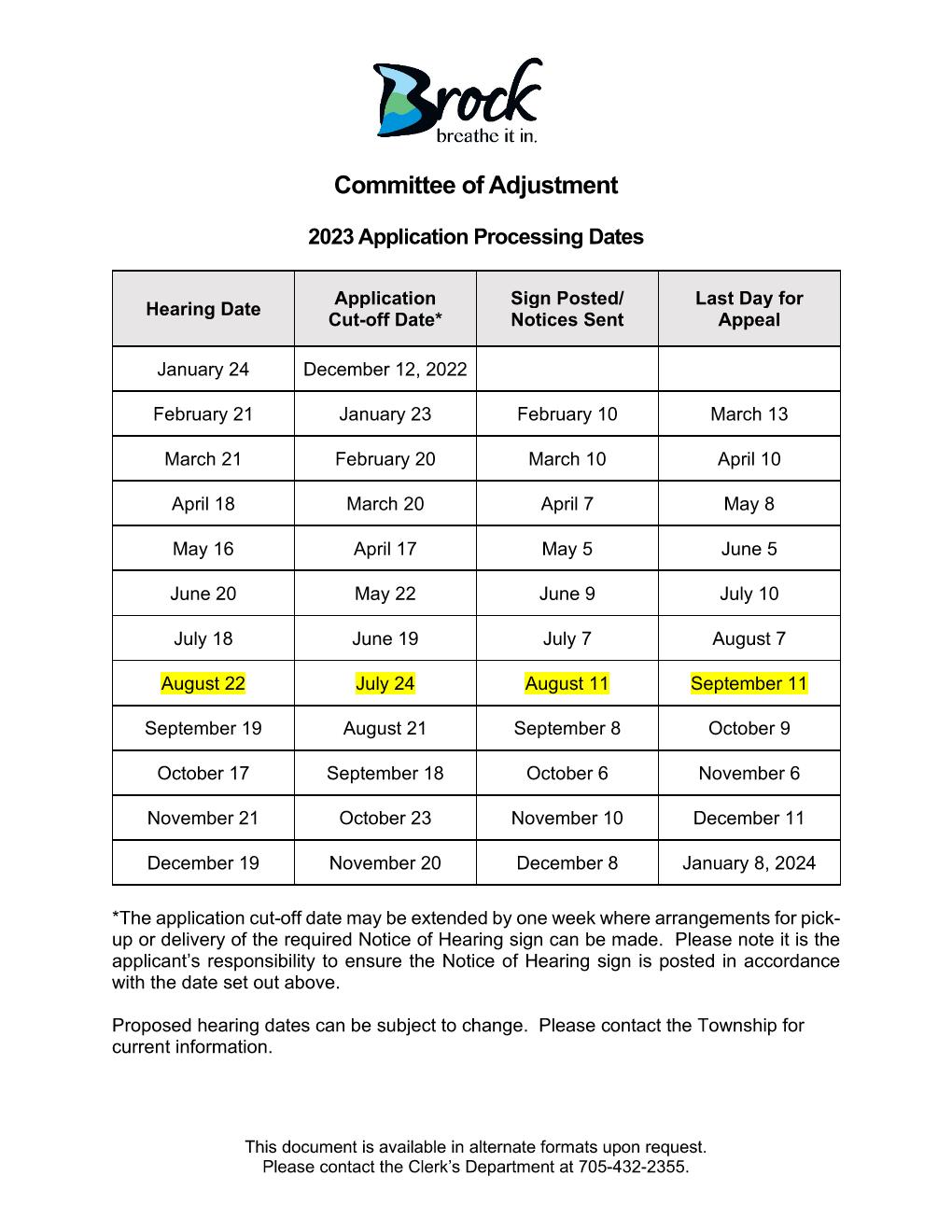 Please note that the Hearing Date for August 2023 has changed. With the new date, it will not be possible to grant an extension for the August 22, 2023 meeting - the application deadline of July 24, 2023 is final.
Committee of Adjustment 2023 Hearing Schedule
Hearing Date:
January 17, 2023
No Applications Received
February 21, 2023
A/01/23 - 20 King St - Public Notice - Agenda, Meeting Link, and Minutes
March 21, 2023
No Applications Received
April 18, 2023
A/02/23 - 157 Main St - Public Notice - Agenda, Meeting Link, and Minutes
May 16, 2023
A/03/23 - 24820 Thorah Park Blvd - Public Notice - Agenda, Meeting Link, and Minutes
June 20, 2023
A/04/23 - 460 North St - Public Notice - Agenda, Meeting Link, and Minutes
A/05/23 - 484 Highland Cres - Public Notice - Agenda, Meeting Link, and Minutes
A/06/23 - 290 Beaver St - Public Notice - Agenda, Meeting Link, and Minutes
July 18, 2023
No Applications Received
August 22, 2023
A/07/23 - 23637 Lake Ridge Rd - Public Notice - Agenda, Meeting Link, and Minutes
A/08/23 - 28 Talbot Dr - Public Notice - Agenda, Meeting Link, and Minutes
September 19, 2023
No Applications Received
October 17, 2023
A/09/23 - 60 McLennan's Beach Rd - Public Notice - Agenda, Meeting Link, and Minutes
November 21, 2023
December 19, 2023
No Applications Received
Committee of Adjustment 2022 Hearing Minutes
Committee of Adjustment 2021 Hearing Minutes