Posted on Wednesday, June 24, 2020 01:28 PM
The Township of Brock would like to provide some clarification on the operation of refreshment vehicles (chip trucks, coffee trucks, hot dog carts, and ice cream carts) in the Township of Brock. Refreshment Vehicles are regulated by the Township of Brock Refreshment Vehicle By-Law (By-law Number 2382-2011-PP) which provides information on how the Township licences and regulates refreshment vehicles. This is to ensure the health and safety of all.
Anyone interested in operating a refreshment...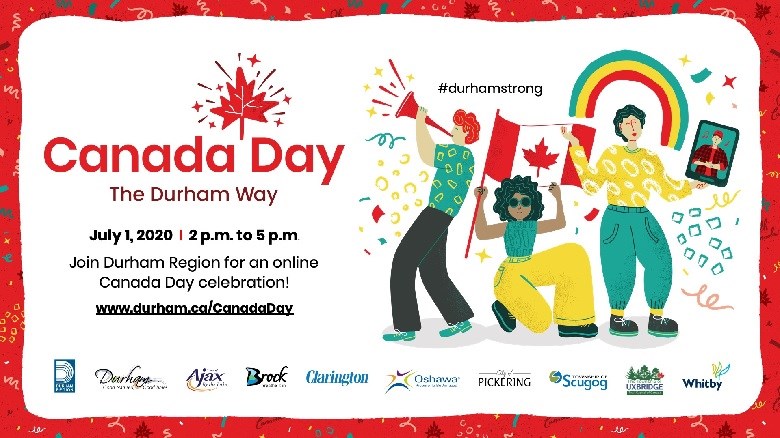 Posted on Tuesday, June 23, 2020 02:01 PM
Whitby, Ontario – On July 1, join us as we celebrate Canada Day the Durham Way—an uplifting, virtual celebration of the communities in Durham Region. To see a special Canada Day message check out this video.
New and exciting performances and family friendly entertainment have been announced for the event including:
O'Canada performed by local artist, Kalista Wilson
Baking beaver tails with MasterChef Canada winner and host of Mary's Kitchen Crush, Mary Berg
Soca entertainment from...
Posted on Monday, June 22, 2020 06:13 PM
Early learning and child care centres operated by The Regional Municipality of Durham will begin to reopen on June 29, following the closure of emergency child care sites.
Staff reached out to families to confirm their current service needs. This feedback will help to inform the reopening plans for Regional centres:
Ajax Early Learning and Child Care Centre
Edna Thomson Early Learning and Child Care Centre (Bowmanville)
Clara Hughes Early Learning and Child Care Centre (Oshawa)
Lakewoods Early Learning...
Posted on Monday, June 22, 2020 04:31 PM
Durham Region Health Department has started testing waters at designated public beaches throughout the Region as part of the 2020 Beach Monitoring Program. Test results for the week of June 19 indicate that no beaches have been posted as unsafe for swimming due to elevated bacteria levels; however, five area beaches have been closed by the local municipalities and were not tested by the Health Department. For more information on these closures, please contact the appropriate municipalities. Beaches...

Posted on Friday, June 19, 2020 04:33 PM
The Township of Brock would like to provide the following update in its response to COVID-19.
The Township has been working to put plans in place to open additional amenities for our residents to enjoy. Effective Friday, June 19th at 12:01 a.m. all Township of Brock boat launches and trails will be open. A full listing of the status of all amenities is noted below.
In addition, the Township of Brock will be opening more amenities at the Beaverton Harbour, including the splashpad, picnic...